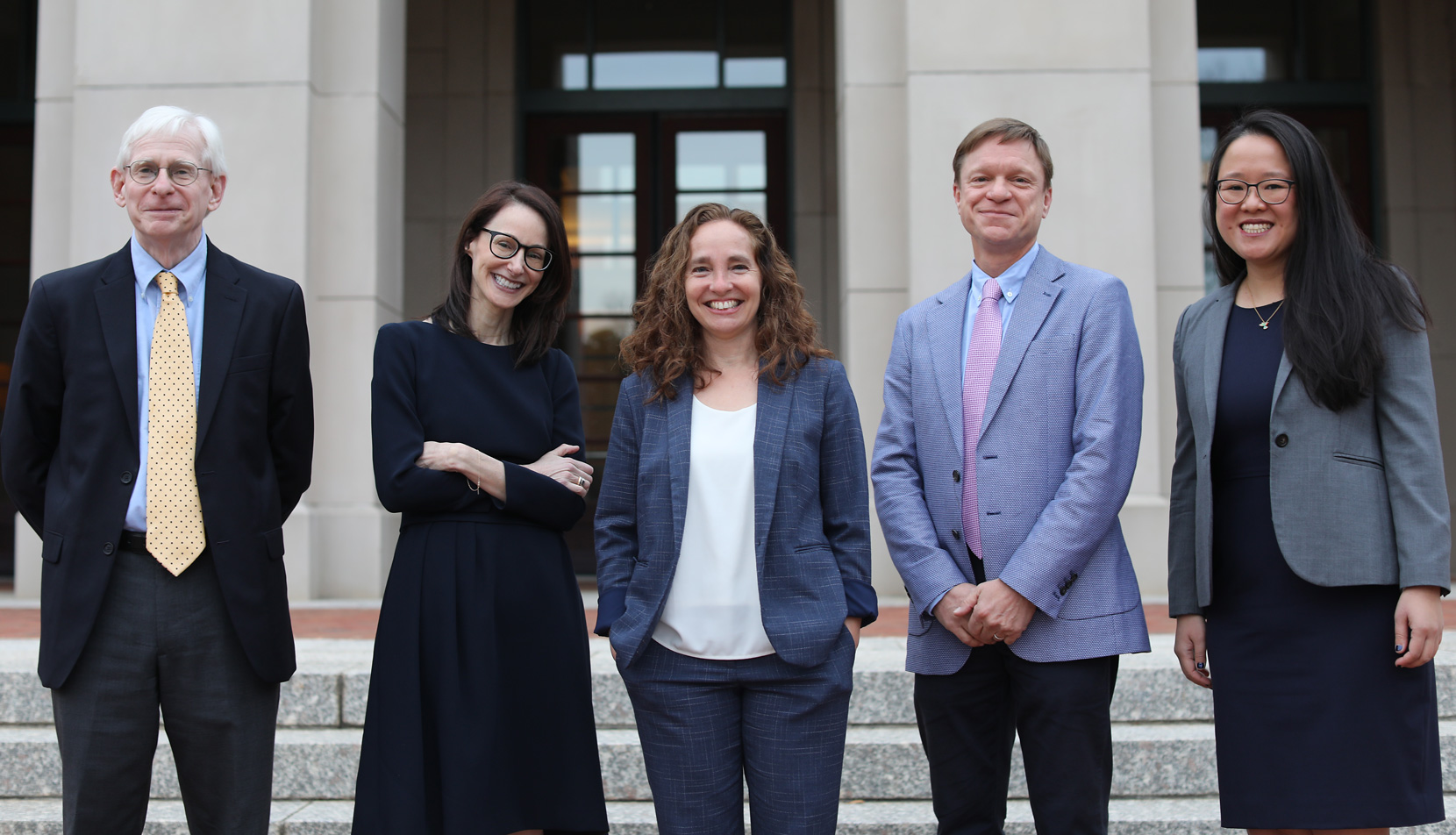 The fourth season of the 'Common Law' podcast features 4 'co-counsels'
Four professors from the University of Virginia School of Law are joining the school's podcast, "Common Law," as co-hosts with Dean Risa Goluboff for the fourth season.
The show will return on February 3 with Goluboff and Cathy Hwang as hosts for the first episode. Professors Danielle K. Citron, John C. Harrison and Gregory Mitchell will also rotate in co-host duties this season, which is called "Co-Counsel".
Goluboff co-host for the first three seasons, Professor Leslie Kendrick '06, is taking a break from podcasting. To fill this gap, Goluboff wanted to introduce teachers with diverse backgrounds who would help choose the show's guests and topics.
"That's why we decided to call this season 'Co-Counsel'," Goluboff said. "All of our co-hosts bring their own expertise to the table and add their own flavor – and it's so much fun to record."
This season's guests include UVA law professors Aditya Bamzai, Quinn Curtis, Kristen Eichensehr, Mitu Gulati, Andrew Hayashi, John T. Monahan and Megan T. Stevenson. Also featured will be graduates Doriane Nguenang '21, partner at Baker McKenzie, and Neil Richards '97, professor at Washington University in St. Louis School of Law. Anita L. Allen of the Carey Law School at the University of Pennsylvania, Elizabeth F. Loftus of the University of California at Irvine, Tom R. Tyler of Yale Law School, Jennifer Mascott of George Mason University Antonin Scalia Law School and Tara Leigh Grove from the University of Alabama.
Who will interview whom? Make your guesses now. Episodes will be released every two weeks throughout the spring and summer.
"We'll have episodes on law and psychology, privacy, national security law, administrative law, constitutional law, taxation, sovereign debt, financial regulation and more," Goluboff said. "There is so much variety, and it was a pleasure to meet jurists who have had an impact on our own faculty here at UVA Law."
About new co-hosts
Citron, a MacArthur Scholar, is the Jefferson Scholars Foundation Schenck Professor Emeritus of Law and the Caddell and Chapman Professor of Law at UVA, where she writes and teaches on privacy, free speech, and civil rights. She is the author of the books "Hate Crimes in Cyberspace" and the upcoming "The Fight for Privacy: Protecting Dignity, Identity, and Love in the Digital Age".
Hwang's research and teaching focus on business law, including mergers and acquisitions, corporate contracts, and corporate governance. She recently co-taught a January term course on corporate law topics from the Emmy-winning show "Succession." Hwang is the Barron F. Black Research Professor of Law.
Prior to joining the faculty, Harrison worked for the United States Department of Justice, including as Assistant Deputy Attorney General in the Office of Legal Counsel. His teaching subjects include Constitutional History, Federal Courts, Remedies, Corporations, Civil Procedure, Legislation, and Property. An alumnus of AVU's undergraduate program, Harrison also served as an international law adviser to the Office of the Legal Counsel at the U.S. Department of State. He is the James Madison Professor of Law Emeritus and the Thomas F. Bergin Professor of Law.
Mitchell, who holds a JD and Ph.D. in psychology from the University of California, Berkeley, teaches courses in civil litigation and law and psychology, and his fellowship focuses on legal judgment and the decision-making, the psychology of justice, and the application of social science to legal theory and policy. He is Joseph Weintraub-Bank of America Professor Emeritus of Law and Joseph C. Carter, Jr., Research Professor of Law.
About the show
"Common Law" is available at Apple podcast, embroiderer, Youtube, Spotify and other popular places where you can listen to podcasts, including Amazon Alexa devices. The show is produced by Emily Richardson-Lorente.
Listeners can follow the program on the site CommonLawPodcast.com or Twitter at @CommonLawUVA.