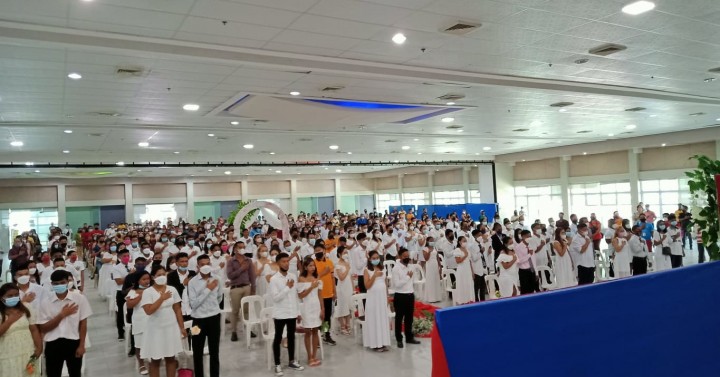 The mayor of Legazpi celebrates the marriage of 68 common-law couples
TOWN OF LEGAZPI – To legalize the union of common-law couples, a total of 68 living partners were wed free by Mayor Noel E. Rosal in time for Valentine's Day Monday at the Legazpi City Convention Center (LCCC) here.
The mass civil wedding was organized by the Legazpi City Women's Federation (LCWF) for the benefit of those who live together but said they lacked the money for a wedding.
LCWF president and mayor's wife Geraldine Rosal said in an interview that the couples had been pre-identified by the Barangay San Roque Women's Organization, adding that most of them had been partners for a long time. nearly 10 years old and had children.
"Most of the couples were employed as butchers at the city's Double 'AA' slaughterhouse while the rest were employed as 'work orders' at the Legazpi city government," she said.
Geraldine encouraged the newlyweds to become responsible parents and to always teach their children good values ​​to become good citizens of the country.
She urged them, especially husbands, to become good providers for their families so that they can give their children a better future.
"At the time of pregnancy for all mothers, it is enough to always visit the lengthening clinics in the various villages, including the main clinic of the city health office (CHO) and the city hospital of Legazpi for their maternity exam," the mayor's wife said. added.
She noted that the city government has set up five nursing clinics in the southern and northern parts of the city to improve the provision of medical services to mothers and their babies, especially those residing in remote barangays.
Meanwhile, in Camarines Sur, at least 10 housemates have also gotten married as part of a project by the municipal police station in Bombon.
Regional Police Chief Brig. General Jonnel Estomo said in a statement, "The responsibility of the Bicol Regional Police Office (PRO-5) is not only to maintain a peaceful region, but also to have good husband-wife relations."
He cited the importance of the sacrament of marriage, adding that a happy family is the foundation of a strong and peaceful community. (With report by Connie Calipay/PNA)